When all little girls begin planning their wedding in their toddler days with a pillow case on the back of their head as a veil, they never imagine all of the issues that could arise.
When women get engaged and begin sharing their news and photos of the ring with loved ones near and far, they never imagine all of the issues that could arise.
I have determined that no matter how prepared you think you are with your wedding planning – even if you've hired an event planner – you will still have issues that you never in a million years expected. Things will be much harder than you anticipated and the best advice anyone can have is to "breathe".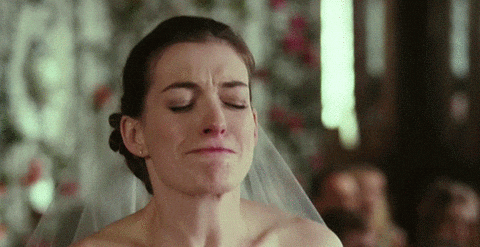 I recently got married and the day of the wedding, no one knew what all issues had come up or that there was ever a problem to be had. I did not have an expensive extravagant wedding. It was low-key, less than 100 guests, and low-cost too, but it was sweet and personal and that's what weddings should be.
So, what could have gone wrong during such a small intimate affair?
Save the Date Curse – I picked out my Save the Dates, had them printed, they were beautiful and simple and in my wedding colors. We had gone over the guest list what seemed like 100 times. As soon as I put my Save the Dates in the mailbox, it was like it cursed people's relationships. Several relationships, including my cousins, imploded for one reason or another – cheating, boredom, both… some of it was heartbreaking, some of it was drama, and some of it was probably for the best. However, what's a person to do when they've invited both partners and they're no longer together? You break a "wedding etiquette" rule and you have to pull the invite from one or both parties. It may be rude, but when you've shelled out a lot of money on the biggest day of your life, you don't need someone else's drama looming over top or causing an issue for anyone. 
Minister Mishap – When it came time to choose someone to marry us, I went to a friend who was ordained. They knew us both and I thought they would be perfect to do so. What I got in return was a bunch of questions: what are the colors, the theme, the required attire, and if their significant other I had never met was invited. Hm, ok, a simple yes or no would have worked, but I told them to take a few days and get back to me. The very next day my future mother in law asked for us to get married by an actual minister from a church – not someone ordained from the internet. That seemed to be doable considering my friend never (I repeat, never even to this day) told me if they would do it. We received the names of 3 different ministers who might be able to marry us and not.a.single.one contacted us back even if it was just to tell us they couldn't/wouldn't – not very Christ like if you ask me. My sister had a friend at work who was ordained and said she could marry us. 3 weeks before our wedding she tells us, she'll be out-of-town, so she gave us the name and number of someone else who could possibly marry us and her response was, "uh, yeah, I can if no one else will". Seriously?! Is that something a bride wants to hear? Someone basically saying that they have no desire to do it? I was in tears on my bed and my loving fiance wasn't having that so he picked up the phone and started making calls. By some grace of God, one of his nearest and dearest friends who lives out-of-state had to be ordained for their job on their military base and was able to do our wedding. Not only was he available and legally able to do it, but he said "I'd be honored" and that meant the world to me and I bawled my eyes out with happy tears. All of the disappointments along the way, led us to the perfect person to marry us. A friend, a true friend, who knew us, made it personal and became a little wedding planner in his own right.  
Freakin' Florists – I originally planned on using the same florist who put together my grandmother's funeral flowers. However, at some point between my grandmother's funeral and the wedding planning period, this woman had lost it – became a cougar and lost control of her business. People often didn't get their flowers, or they'd get someone else's flowers, no bill and then received it months later with huge late fees. I just couldn't trust that this woman could pull through. A friend had suggested one of her family member's so I went to their shop and I should have just turned around and left. There wasn't a single flower to be had but just a bunch of primitive knickknacks and a tanning salon. When I finally got to speak with her, I expressed I didn't want anything that was in the FTD books, I had ideas with me and wanted something different. She took pictures of what I wanted and stated she'd have to put some things together and the price would be based off of the flowers that she used. 2 months went by, 2 moons had passed and I hadn't heard a word from her so I went to a different florist. This woman sat down and talked with me, took notes, made copies of my flower inspiration photos and everything. She asked me how many grandmother corsage I was going to need and not being prepared for such a question as I no longer have either one of my grandmothers, I cried – I cried in the flower shop. I was quoted a price and the shop was paid that day. The shop wasn't open on Sundays (which is when my wedding was set to happen) and we had discussed meeting early in the morning to pick up the flowers the day of the wedding. I called the Friday before and was told that there was no order for me. Are, you, freaking, kidding me!? No flower order? For flowers I had already paid for??? At that point I was about to cry on the phone and the owner told me not to cry, she was going to make it right. What would have happened had I not called???? I would have been flower-less. When I did receive my flowers, they weren't what I had wanted, but they were pretty except for some huge gaudy bows. Like sheer ribbon bows the size of Texas on my bouquet and on the handles of my flower girl basket. I was ripping off bows 2 hours before my wedding before I would let flowers be photographed. 
That Tech Didn't Nail It – I had taken Friday before my wedding off work. I needed to get my nails done, meet with our minister, and pack all of centerpieces up so yeah, work was the last thing I was thinking of. I go to a place I normally go to get my nails done because it was close to home. I got there close to opening and had to wait to be seen, but whatever. I wrote myself in for a mani/pedi and selected my toe nail color. I was going to do blue as one of my wedding colors was blue and I thought it could be a cute "something blue" but then I saw *the* color, "Mimosas for the Mr. and Mrs." by OPI. Done deal. I went to the blessed massage chair and got comfortable when a nail tech I had never had sits in front of me and asks me if I wanted her to trim my toenails. "No, ma'am please don't touch the talons. At the same time don't buff the centaur boots I call feet either, considering that you're asking me if I want you to actually do the service I'm paying for." Whatever. I let her do her thing which quite honestly was probably 50% focused on me and 50% focused on The Price is Right which was playing on the TV beside of us. I was texting people and coordinating things and answering 1000 questions, I honestly wasn't paying attention to her. It wasn't until on my honeymoon that I noticed that she hadn't painted the nail to the edge and had only put one coat on my baby piggies.  So, forward to her asking me what I want done to my nails. "Well, they're jacked looking so I will need tips, I *hate*the harsh white line of traditional French tips so I want them ombred". I did not think that this would be a huge ordeal honestly. It seemed like a simple request. I had never had my nails ombred, but the owner had just done an ombre set on the girl before me so I knew that they knew what I was talking about. I just had never had anything like that done before so I didn't know what to expect. Everything was going pretty normal until she started slapping white polish in a very aggressive way on the tips. Seeing as how I had no clue how the ombred effect was achieved, I just assumed that this was normal. Nope, nothing normal other than she was giving me a normal basic blah harsh white tip. She started cleaning up the polish into a harsh line and I spoke up and said, "ok, so when does the ombre happen". She sheepishly looked up from my nails and told me that she (wish I was lying) zoned out on what she was doing and in order to do an ombred look she would have had to do something completely different from what she had done and so now I have this, but not to fret because she was going to be putting a thick line of glitter between the white and the pink. Um…. NO! I just told you I hate white tips and you're giving me harsh white tips and drawing even more attention to it by throwing glitter, the HERPES of the crafting world on my nails… I've shown you a photo of what I'm paying for my nails to look like and you've offered me the glitter white tips of a stripper named Cinnamon. I then sat there while she tried to fix the error. 3 hours later I finally left the nail salon, pissed off, not relaxed, angry that I was still charged full price for all of the crap I had to sit through, my nails still weren't to my liking, and the acrylic was over shot on a nail or two so I had to go home and FILE my nails that I just had done so they wouldn't be digging into the flesh of my finger. Lesson learned, I will continue to only get SNS gel nail dips done at the salon near my work I had my engagement nails done at. 
The Walking Undependable – There are some people that you just can't depend on… or you can depend on them to be undependable, so take that however you want to. I was very thankful for those who gave up their Saturdays to help me decorate. Lord knows I needed a young priest and an old priest to just calm my mother down. However, there were people who said from day one that they would help and they were no where to be found, instead, calling and saying "oh, but I need to do this today… sorry.." you're not sorry, you had something else you wanted to do instead of owning your word to someone. My mother screamed and cussed people out that day and I still have yet to figure that out because it was the people who actually showed up to help. She over reacted and became very dramatic. So much in fact that I just couldn't deal and began to feel physically nauseous (actually that's my new response to people being overly dramatic for no damn reason in my presence, I want to throw up). My mother also took on so much that I asked her not to that she became overwhelmed and had a lot of freakouts. I should be use to this. It happens at every family gathering we have. With that being said, please understand how much I love my mommy and that anything I've said here, I said it to her face awhile ago. At least she's dependable right? 
Rain on the Parade – A week out, my outdoor wedding forecast showed it would be 75 degrees, sunny but with cloud coverage (which the photographers said was the optimal weather situation for photographing an outdoor wedding. 6 days out that changed to a slight chance of rain to 100% chance of rain all day. It rained when I got up, it rained when I got my hair done, it rained when I got ready, it rained during my first look photos, and it rained during the ceremony that we had to move into the reception space. I was so upset about the rain in the days leading up to the wedding, but they day of, I didn't care. Was it what I had envisioned? Nope. Not at all. By the time the wedding day rolled around, the only thing that mattered was that I was marrying my best friend and anything else seemed trivial.
People Will Make it All About Them – I said if anyone got engaged at my wedding, I would purposely give birth at their baby shower, or die at their funeral, ya know, whichever. I can't stand people who try to take everything away from someone else. No matter what, someone will try. Whether it's an outfit that draws all sorts of attention, someone gets sloshed drunk, ruins photos or photobombs every freakin picture you've paid to have taken, or tries to do so insensitive that no one believes it when you share the story because it's just too much. It might be a friend, it may end up being a family member, but be aware and forwarned that someone will do *something*, can't say what because it's different for everyone.   
Missing FOB – My wedding was due to start in meer minutes. I had taken first looks, everyone was getting lined up, my mouth was crazy dry, and I was getting nervous (mainly that I would do something stupid like lock my knees and end up passing out during my vows or something). That's when someone has to tell me that my father is not there. He had driven back to the house because he thought he left the garage door open and should be on his way. Not only was it the Father of Bride that was MIA, it was my brother, and my nephew who was escorting my mom and mother in law down the aisle. No wedding has *ever* started on time. If you find yourself in a similar situation, realize it's normal and everyone *WILL* wait on you because you *ARE* the bride.  
At the end of the day, everything was fine. We were married, it's legal, I'm a wife, and I'm married to my best friend (I'll write another blog on why I truly think that everything out there who says your husband shouldn't be your BFF is wrong in my humbled opinion). I got to have my first dance to David Bowie, I got to dance with my father, the rain was only like an annoying misty type rain, everyone raved about the decor of my Disney themed wedding and how my wedding was just perfect – they laughed they cried it was laid back and everyone enjoyed themselves. My husband is stuck with me until death do we part.