I'm sure this is bound to be a multi-part post, but for real, what is it about sharing a *work* space that turns people into the most disgusting pigs of all time? Or are people truly like this in their every day life too? If so, this is what's wrong with the world.
My number 1 Workplace Etiquette Pet Peeve is probably other people's bathroom habits.
When I worked in retail, I expected the bathroom to be a place of whoa's. At one of the stores I worked in (thankfully on my day off) it appeared as if someone had taken Alli and ate too much fat in one meal and blew the bathroom up. Honestly, I've never heard of such a thing being true, it was always said in expression, but no… a lady had gone into the women's bathroom and had massive explosive diarrhea and it wound up in the toilet, on the toilet, on the floor, on the wall behind the toilet, and the shitty panties were left in the trashcan… EW. Yeah, in my experience, most ladies who use the ladies room are not ladies in the manners and etiquette department…
Now, I work in a professional office with professional people and I swear, the bathroom behaviors truly are not any better. I question things a lot… like how hard is it to flush all your business down the toilet? Flush it twice ok? A courtesy flush…
Why is there soap in the floor? Running down the wall? Is this the building that drips soap?
Why do you feel like you have to announce to the office that you're going to the bathroom? If you make a mess in there of any kind, we now know who to blame…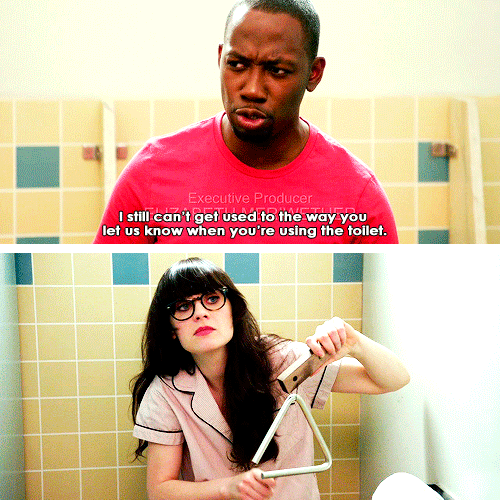 Why is there shredded toilet paper? I know we have to keep buying this cheap horrible 1 ply toilet paper because it's cheap. It doesn't help my life when you struggle to tear your portion of it off properly and it's mangled or if you've just let it go down to dirty floor. No one should wipe themselves with floor debris toilet paper. Who keeps buying these horribly scented air freshener sprays? Do they think they're working? They're not. All I smell is stale apple cinnamon potpourri that's been sitting on Aunt Edna's coffee table for 5 years mixed with poo-stank. No one thinks pina colada poop is a pleasant office smell. "Shit the Bed Fred Clean Linen" shouldn't be a thing. Maybe we can stop wasting money on sprays to mask what you did and get some of that essential oil spray to spray in the toilet before the darkness happens..
Why is there water EVERYWHERE?! Did the toilet overflow? Did you shake your wet hands all over the place trying to dry them before you grabbed a paper towel? Did you shower in here? Please… at least tell me it's water…
Normally, I'm one of the first people here. I also work in a predominately female office. We have two single person bathrooms – one for the public and one that is employees only with a pass code lock on it. As being one of the first people here, I can safely say I know that I'm one of the first people to use the bathroom – the first if the seat is up because that means the custodian scrubbed the toilet and left the seat up as his sign to say "ladies, the toilet is clean, please be the first to touch the clean seat." At least, that's what I hope he's saying….
Anyways, I got to the office one day and noticed that the toilet seat was up (so it's clean) but someone had gone into the bathroom and washed their hands and threw the paper towels in the floor… In. The. Floor. right in front of the trashcan. Then I walk in far enough to see the inside of the toilet, it's been used and there are fecal streaks running down the bowl and there's still a few solid pieces in the toilet. GROSS! I flushed the rest of this person's business down the toilet and walked to the other side of the room to wait. There are two trashcans in this bathroom and they're both empty, as the paper towels this animal used are in the floor. When I feel it's safe I return to the toilet, do what little business I needed to do (all this work for so very little..) I reach for the toilet paper and notice it's a brand new roll… I'm the first one to use it… and here's where the questions come in:
Who poops with the lid up? Did you poop and then put the lid back up? Were you in such a hurry that you forgot to put the seat down? How did you not fall in? Did you do a hover poop?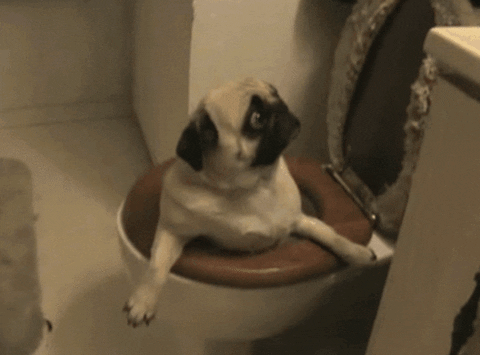 Why am I using a brand new roll of toilet paper, but there's not an empty roll in any of the trashcans? Did you not *use* toilet paper? What kind of savage are you?
Would it have killed you to put the paper towels in the trashcan? You were so close, why would you have left them in the floor??? Did you use paper towels instead of toilet paper? Did you leave them there because you didn't want to pick them up and risk touching your own dirt?
Seriously???? WHY DO I HAVE TO HAVE THIS MANY QUESTIONS WHEN IT COMES TO USING A SHARED BATHROOM!?